Die 18. Kampagne in Naga (Sudan) ist erfolgreich am 14. Dez. zu Ende gegangen.
Vor Ort erfuhr Karla Kroeper, dass heftige lokale Regenfälle im Oktober den lokalen Nomaden in Naga eine gute Ernte Hirse beschert hatten. Ein üppiges niedriges Gras war allerdings schon von den Tieren abgegrast worden - nur im eingezäumten Gelände des Amuntempels war der Graswuchs wie ein gelblicher Teppich erhalten (Foto 1).
Standfest!
Extensive Restaurierungs- und Sicherheitsmaßnahmen konnten von 'Restaurierung am Oberbaum' im Auftrag des Vereins zur Förderung des Ägyptischen Museums und durch eine zusätzliche Zuwendung vom Auswärtigen Amt an der Hathor-Kapelle durchgeführt werden.
Ein unerwartetes Schadenbild der SW Ecke, das die Stabilität der Kapelle gefährdete, musste aufwendig restauriert werden.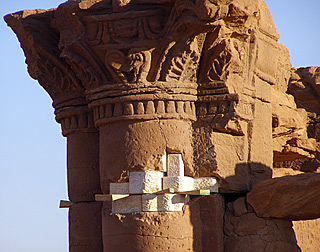 Die in diesem Jahr zum ersten Mal freigelegte Südseite der Kapelle (Foto 4 und 5) musste an den 'Tropf' gelegt werden um die unteren Steinlagen zu festigen.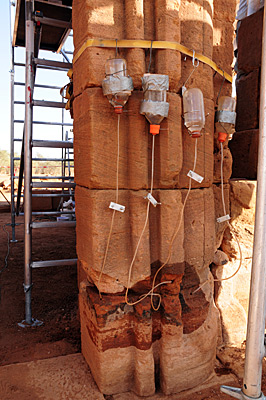 Angekommen!
Wie bereits angekündigt, konnte durch das großzügige Entgegenkommen des Ministers für 'Youth, Sport and Culture' ein Vertrag mit der 'National Corporation of Antiquities and Museums' über eine langfristige Ausleihe von 74 dekorierten Blöcke (Foto 7) aus Tempel 200 unterschrieben werden. Die Blöcke stammen alle von der Westwand des Tempels (Foto 8) und lassen sich zu drei Szenen mit Götterdarstellungen zusammensetzten (Foto 9). Die Blöcke wurden durch Festigungsmaßnahmen für den Transport vorbereitet (Foto 10) und von Mitarbeitern der Firma Hasenkamp in nach genauen Maßvorgaben in Deutschland gebauten und per Cargoschiff in den Sudan gesandten Kisten in Naga verpackt. Trotz der nationalen Feiertage - 'Id ul-Adha, dem großen Opferfest vom 8.-14. Dezember - war es möglich im Beisein des Direktors des Sudan National Museums die Blöcke nach Khartum zu transportieren, wo sie dann am 16. Dezember mit Lufthansa Cargo nach Deutschland versandt wurden (Foto 11-12). Zur Zeit befinden sie sich in der Werkstatt von 'Restaurierung am Oberbaum' (Foto 13). Die Blöcke werden nach weiterer Restaurierung im Neuen Museum zur Ausstellungseröffnung im Oktober 2009 als sichtbares Resultat des Naga-Projekts und als Zeichen der archäologischen Kooperation mit dem Sudan präsentiert werden.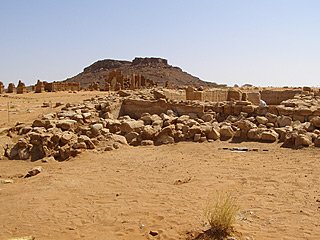 Die Naga- Mannschaft befindet sich schon fast wieder im Aufbruch - am 24. Jan gehts zur 19. Kampagne nach Naga. In dieser Kampagne wird eine der Aufgaben sein, den südlichen Teil von Tempel 200 auszugegraben, ein Gelände, in dem Anbauten (vielleicht Priesterhäuser) zu erwarten sind. Des Weiteren soll die Verbindung zwischen Hathorkapelle und Löwentempel geklärt werden sowie eine kleine Kapelle zwischen den beiden Tempeln, die schon 2008 entdeckt wurde, freigelegt werden.